Geschäft Formulae is a leading SAP industry solution provider in India delivering agile and intelligent business performance centric solutions. Explore our comprehensive solutions that have been carefully designed to support businesses at different lifecycles.
Discover What We Offer
Rise with SAP
Evolve into an intelligent enterprise with Rise with SAP
RISE with SAP is SAP's latest solution that promises Business Transformation as a Service.  RISE with SAP offers a bunch of SAP's cloud services including SAP S/4HANA Cloud, Business process intelligence (BPI), SAP Business Technology Platform (SAP BTP), SAP Business Network Starter Pack and Embedded services and tools delivered via a subscription licencing. Organisations can select the desired deployment options to address their business specific needs.
   

Helps businesses revamp their business processes and operations.

   

Improves flexibility and accelerates innovation.

   

Facilitates UX across devices and improves customer acquisition.

   

Helps organisations migrate to the cloud swiftly with minimal implementation time.

   

Provides end-to-end support for sustainability and faster reporting.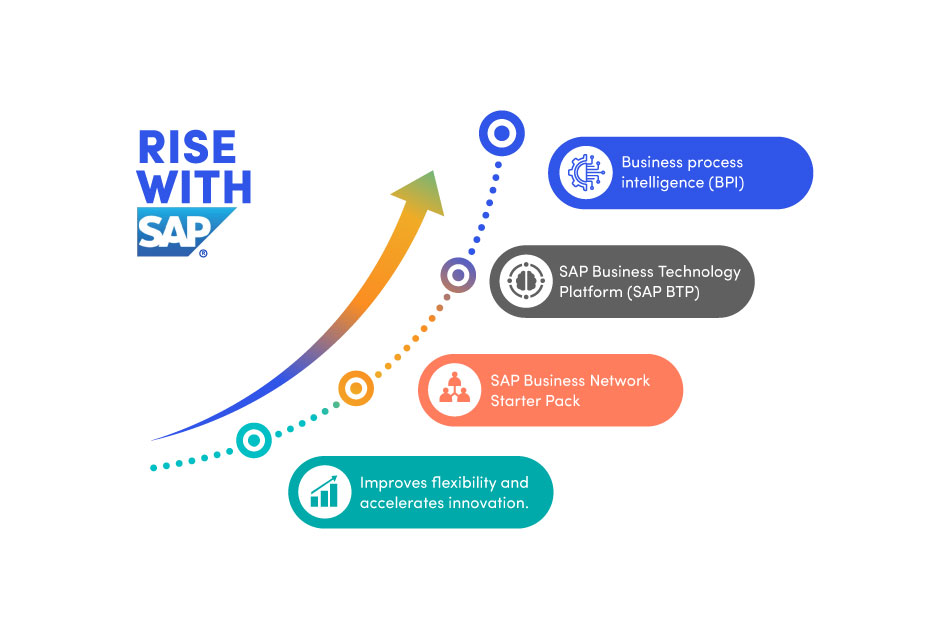 SAP S/4HANA
Move to SAP S/4HANA - Intelligent Enterprise Transformation
Geschäft Formulae provides the easiest, fastest and the most affordable SAP HANA solutions for businesses to transform their operations, enable real-time data for quick decision-making and predictable business growth.
The SAP S/4HANA solution is being labelled as the next generation business suite. It is formulated in such a manner that it accommodates and starts to yield the expected outcomes seamlessly. We help businesses accelerate to S/4HANA and deliver measurable ROI in the quickest time possible.
Increases flexibility to scale up to changing business needs.

Implementation of best practices with minimal customization efforts.

In-memory platform with integrated transactions and analytics.

Enhances visibility across the product and customer life cycle.

Improves collaboration across the enterprise and value chain.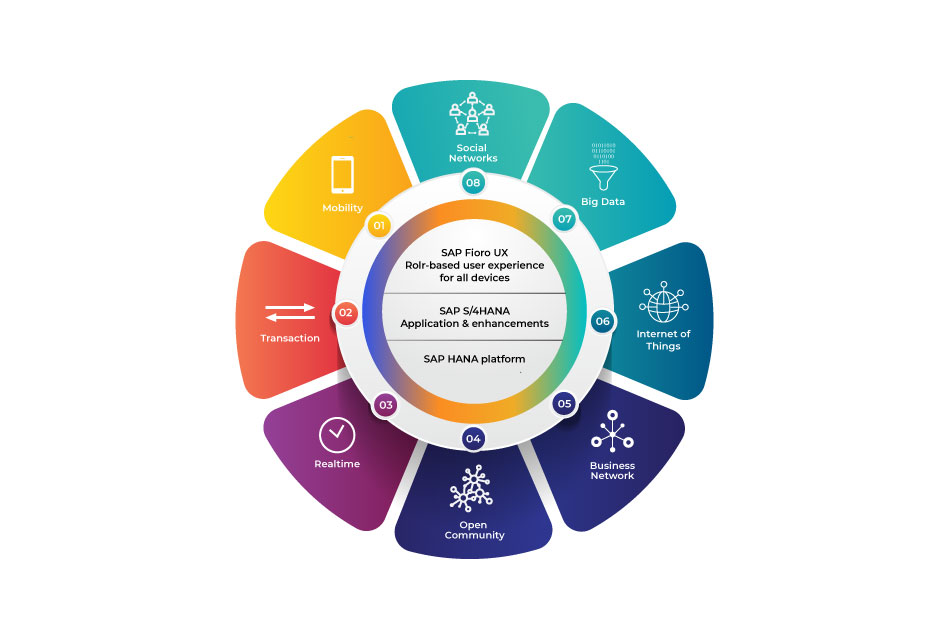 Digital Core
Transform your Enterprise journey with SAP Digital Core
Digital Core with S/4 HANA can help your organisation move to the latest and simplified SAP landscape with modern capabilities to compete in today's digital economy. In this digital age it has become important to deliver secure, frictionless digital experiences to your customers, partners, stakeholders and employees. SAP offers a digital core with S/4 HANA that helps clients to unleash the power of new digital technologies like AI, ML, Analytics, Block Chain, Customer Experience and IOT in order to become an intelligent renewable enterprise.
Here are the top 5 reasons to migrate to SAP S/4HANA now –
   

Increases business cost efficiency and asset utilization.

   

Generates new revenue streams and helps in retaining more customers.

   

Embedded analytics that accelerates velocity of development and time to market.

   

Access to enterprise-class technology by supporting the transition to cloud.

   

Improves productivity by speeding up database operations with the help of In-memory databases.

   

Helps in advancement of futuristic technologies to make high-end mobility applications leading to higher adoption rates.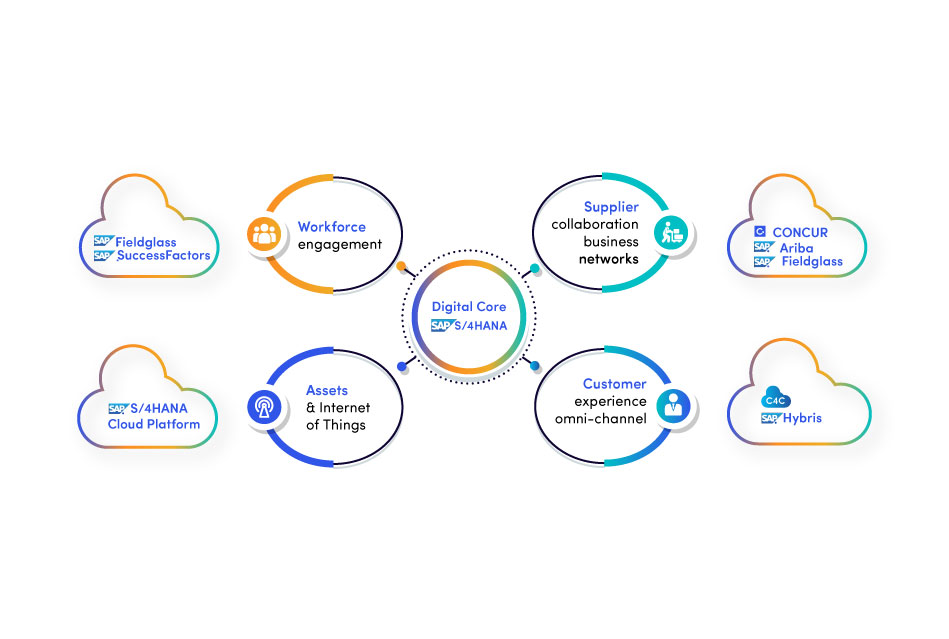 SAP Analytics
Make better decisions with SAP Analytics
SAP Analytics helps businesses make better decisions by transforming data into actionable insights. Our SAP Analytics Solution transforms online data into visual analytics which can then be used for reporting, decision-making, analysis, and forecasting. Predict current market trends, explore new opportunities, and develop breakthrough business strategies with our SAP analytics platform.
   

Build, Configure and Automate Workflows in no time with real time data.

   

Data visualization, visual analytics, data discovery, augmented analytics, advanced analytics, and modern BI(C4A) tools for business users.

   

Supports fact and evidence based decision making as a source of competitive advantage.

   

Makes it easy to measure and track progress. With the help of the analytics Dashboard, enterprises can track KPIs, trends, metrics, and other important information.

   

Allows organisations to determine future performance, based on current and historical data.

   

Helps in setting a baseline or standard for your organization and thereby measure your performance over time.

   

Helps identify business problems and streamline operations.

   

Enhance customer and employee experiences.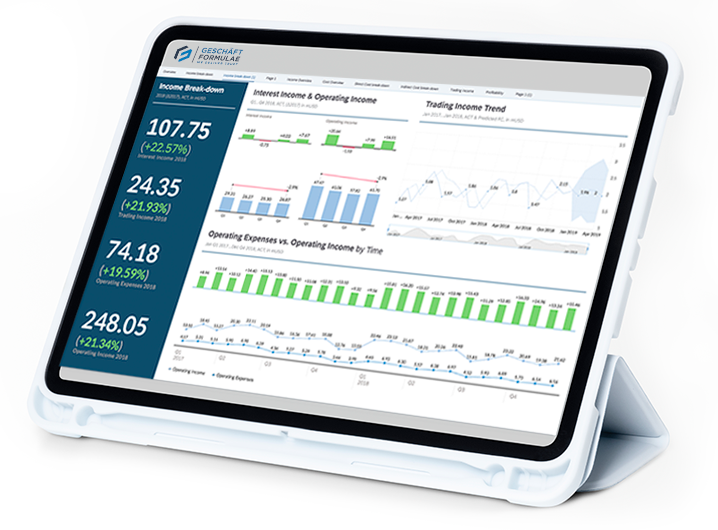 SAP Fiori
A whole new user experience (UX) for SAP software and applications
SAP Fiori is a new user experience (UX) SAP business solution custom built for SAP software and applications. SAP Fiori aims at providing a meaningful user experience to define pleasing customer journeys that are most conducive to business success. Geschäft Formulae is a leading SAP industry solution provider that helps you explore, plan and implement SAP Fiori in a bid to replace the traditional SAP user interface with a reliable, precise, and easy-to-learn interface.
   

Enhance user satisfaction, aesthetics and usability.

   

Build a responsive web app or native app to provide more value to customers.

   

Use SAP Fiori elements to create and customise SAP Fiori applications.

   

Create modern, responsive, relevant and device compatible user experiences.

   

Lower the front end development maintenance cost.

   

Provides Free iOS SDK tools and Android Studio documentation required to create native iOS or Android apps for smartphones, tablets, and other mobile devices.

Stimulate the design-to-development process with the SAP Fiori design system.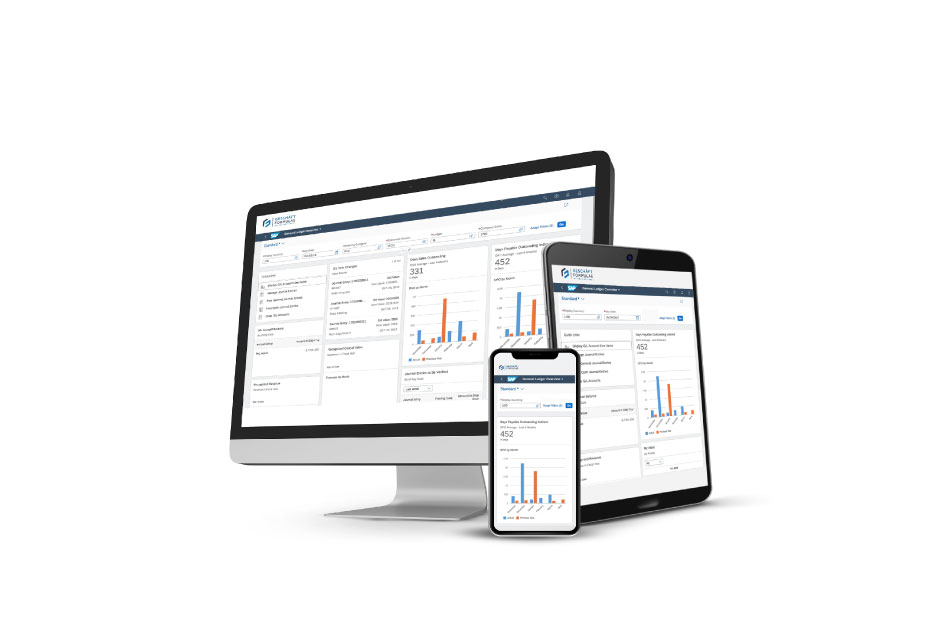 SAP Artificial Intelligence
Get to access to a bunch of intelligent technologies
SAP Artificial Intelligence is a bunch of intelligent AI products and technologies that can help you optimise your processes and resources and ignite innovation in any area of your business. SAP AI Business Services lets you analyse your data in an instant, so you can automatically act on insights, rapidly address business challenges, and create new opportunities. Whereas, SAP Conversational AI is a chatbot platform that helps you comfortably build, deploy, and optimize AI-powered chatbots on any SAP solution without coding.
Leverage AI and utilize AI task automation tools to save more time and boost productivity.

Improve Efficiency, Reduce Costs, Improve profits and Minimize the Errors with AI.

Transform customer experience for better with chatbots and AI-powered virtual assistants.

Become an intelligent enterprise using AI-powered data to make informed and accurate decisions.

Drive business process optimisation and streamline inefficient or manual processes.

Keep pace with rapid technological advancements and accelerate time to market.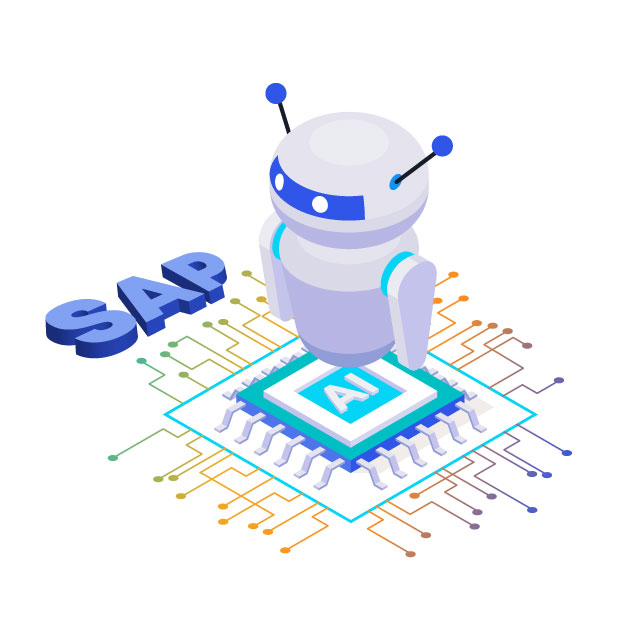 Geschäft Formulae provides excellent technical knowledge and business expertise in using the latest SAP software standards.
We strive to deliver a remarkable customer experience and help organisations adopt next-generation digital thinking.