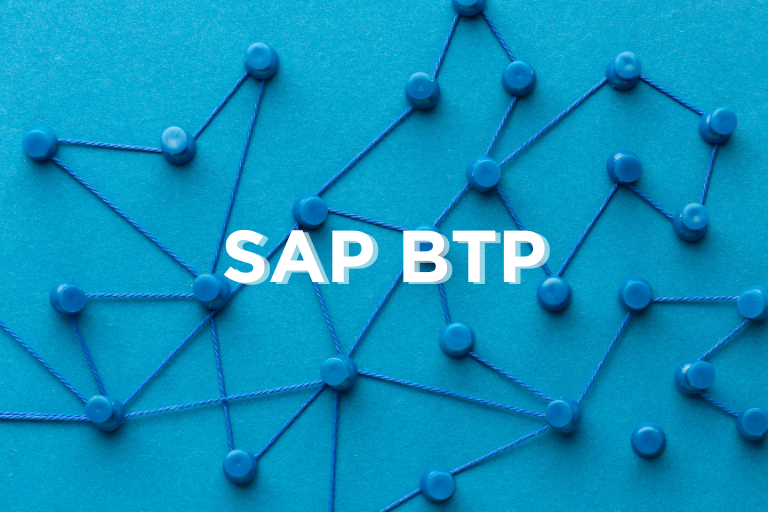 Introduction
Imagine a bustling corporate headquarters, where executives are making critical decisions, and teams are collaborating from different corners of the globe. Where agility and innovation are the keys to success, one thing stands out as non-negotiable from the rest and that is: staying connected. SAP Business Technology Platform (BTP) Connectivity is your key to transform your business midst such an agile and dynamic business landscape.
As a proud SAP Gold Partner, Geschäft Formulae isn't just your ordinary guide; we're your trusted companion on this thrilling expedition into the uncharted territory of SAP BTP Connectivity. Join us as we uncover what SAP BTP is all about and, more importantly, how it holds the power to transform your business into something extraordinary.
H2: What is SAP BTP?
SAP BTP, which stands for Business Technology Platform, is like a versatile toolbox for businesses. It offers a variety of tools and services to help companies build, connect, integrate and improve their applications with ease. Think of it as the foundation for creating innovative solutions that enhance processes and elevate customer experiences. SAP BTP acts as the foundation upon which innovative solutions can be developed, leading to improved processes and unparalleled customer experiences.
H2: Understanding SAP BTP Connectivity
SAP BTP Connectivity, a crucial part of the platform, is like a secret key to unlock SAP BTP's full power. Let's take a closer look at what makes it tick.
H3: Subaccount-Specific Configuration: SAP BTP Connectivity allows for subaccount-specific configuration of application connections via destinations. This means you can design your connections to match the unique needs of your business units. It's all about ensuring that your connectivity is designed to work seamlessly with your organizational structure.
H3: Java API for Developers: For application developers, SAP BTP Connectivity provides a Java API that empowers them to seamlessly consume remote services. This not only streamlines application development but also opens doors to endless possibilities, making it easier to create innovative solutions that meet the evolving demands of the business world.
H3: Cloud Connector: When it comes to connecting to on-premise systems, the Cloud Connector is your trusted companion. It ensures secure connections while giving you full control and auditability over the data exposed to the cloud. This feature is invaluable for businesses that need to integrate their existing on-premise infrastructure with the cloud to unlock new capabilities and enhance their operations.
H3: Secure Tunnels: Security is crucial in the digital age. SAP BTP Connectivity ensures that when you connect your on-premise network to applications on SAP BTP, a secure tunnel is established. What's unique is that this tunnel is exclusive to applications assigned to your subaccount. It's encrypted via transport layer security (TLS), guaranteeing the privacy of your connections.
H3: Support for Both Environments( Neo and the Cloud Foundry environment):
SAP BTP Connectivity is remarkably versatile. It supports both the Neo and Cloud Foundry environments for application development. Whether you're working with the tried-and-true Neo environment or the innovative Cloud Foundry, SAP BTP Connectivity has you covered, providing flexibility and choice.
To gain a deeper understanding of SAP BTP Connectivity, you can explore the comprehensive documentation here.
H2: Supported Protocols and Scenarios
SAP BTP Connectivity doesn't just offer one-size-fits-all solutions. It supports a range of protocols and scenarios, ensuring that it can accommodate a wide array of connectivity needs.
H3: HTTP(S): The HTTP(S) protocol is the backbone of the internet. With SAP BTP Connectivity, you can effortlessly exchange data between your cloud applications and Internet services or on-premise systems. Creating and configuring HTTP destinations allows you to make web connections, enhancing the flow of data and information across your organization.
H3: RFC (Remote Function Call): For those dealing with on-premise ABAP function modules, SAP BTP Connectivity provides the means to invoke these functions via RFC. Configuring RFC destinations facilitates secure connections to back-end systems, leveraging the power of remote function calls.
H3: TCP: Accessing on-premise systems via TCP-based protocols is crucial for many businesses. With SAP BTP Connectivity, you can achieve this using a SOCKS5 proxy. This ensures that your connectivity needs are met, no matter the complexity of your system landscape.
H2: Connectivity, Extensibility, Integration
SAP BTP Connectivity goes beyond mere connection; it offers extensibility and integration that can transform your business.
H3: Connectivity between Cloud Applications and On-Premise Systems:The ability to connect cloud applications with on-premise systems is a game-changer. With SAP BTP Connectivity, you can choose from multiple supported protocols to ensure seamless communication. Additionally, you can access cloud databases via JDBC/ODBC, making data integration a breeze. What's more, you can propagate cloud user identity, simplifying access and user management.
H3: Connect to SAP solutions: For businesses relying on SAP solutions, SAP BTP Connectivity provides an opportunity to maximize the potential of these systems. You can consume SAP S/4HANA Cloud APIs, enabling the integration of SAP S/4HANA Cloud Events. SAP BTP Connectivity consumes SAP SuccessFactors HXM Suite OData API to unlock the power of human experience management. You can also consume APIs of SAP Customer Experience Products, enhancing your customer engagement and relationship management.
H2: Conclusion
SAP BTP Connectivity, combined with the expertise of Geschäft Formulae as an SAP Gold Partner, opens up a world of possibilities for businesses. It is the bridge that connects your business to the digital future, where innovation and efficiency reign supreme. The power of SAP BTP Connectivity is at your fingertips, and Geschäft Formulae is here to guide you on this transformative journey. Are you ready to unlock the full potential of SAP BTP Connectivity and 'Rise with SAP'? Your journey begins now.